QuIRI brings together researchers from across Cornell who are teaching, employing, and developing rigorous qualitative research methodologies. The qualitative and interpretive social science faculty at Cornell University are among the very best in the world. QuIRI creates opportunities for collaboration and excellence in interpretive social science research and training.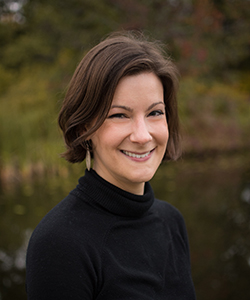 Amelia Greiner Safi
 Positions, Units: 
  Senior Research Associate, Department of Communication;
  Core Faculty, MPH Program, Department of Population Medicine & Diagnostic Science
 Years at Cornell: 6 
In my recent project, I:
worked with a large team trying to understand and address structural racism in health care locally; we're interviewing providers and frontline staff on their practices and observations and conducting focus groups with patients who have been discriminated against. 
One important finding was:
while preliminary, there are so many good ideas from all our various participant groups on things to change – from language people use, to how scheduling happens and policies around no-shows – so there's an increasingly clear view of what needs to be addressed.
Two things that surprised me were:
how many people – even if they believe structural racism in healthcare is an issue  – don't believe it is happening where they work; and secondly, the need for there to be interventions not just for the doctors and nurses, but for everyone who interacts with a patient.
My favorite qualitative methods books and articles are:
from Michael Q. Patton's body of work, like Qualitative Research and Evaluation Methods.
In the next year I look forward to:
working with my various collaborators and partners on several other qualitative projects addressing racism in health care, other dimensions of health disparities (i.e. barriers to cancer screenings), and how several sites around the country consider equity when addressing consequences of flooding (i.e. relocations, buyouts, restoration). I also want to do a better job of talking about this work with my students, in terms of topical focus, but also the role qualitative methods play.